| | |
| --- | --- |
| | |







Adelina Paula Sasu - Romania

I'm a painter. My name is Adelina Sasu. I was born in Romania in the city Aiud. I like painting a little abstract. I like to feel all the moments. I have inspiration a little from Klimt. I like to paint with the geometric form, to use the human body. This way I use the human body because all the people, for me, are abstract. This is the reason I use abstract (form), because it is more easy for me to do a person-- because all the persons in the world for me are abstract persons.

I like the people who are in my circle to inspire me, to have an idea why I have to work. I need sometimes patience. This is why I try to have a connection with a lot of people, to discuss, to have a conversation, to exchange the works, to exchange the techniques, and to have a good inspiration for me and for them. Also I am inspired by other people, but I paint for my....my feelings. Thank you very much.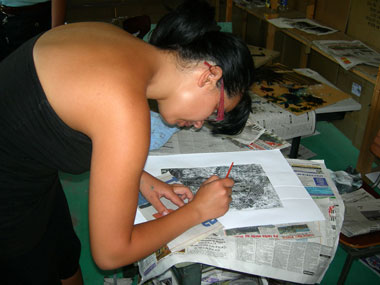 2008 Patricia Goodrich
All rights reserved.
Unauthorized reproduction
in any manner is prohibited.
www.patriciagoodrich.com
Email: patricia@patriciagoodrich.com